Upcoming Events: May 2020
So… the Governor says it's time to start opening up the state and get everyone back to work. Retail and restaurants were allowed to open at limited capacity since May 1, salons and barbers start today, and other stuff starting May 18. Even with the reopen rules in place there are a lot of local businesses that aren't ready for that, but, there are a few are testing the waters.
Bars and clubs still have to remain closed and all shows are canceled or rescheduled. Our event calendar has been updated with all the cancelations and rescheduled dates we could find.
Follow us on Facebook to find out about the latest streaming shows. Keep up with the Lost Well, they have been hosting steaming shows every weekend in their Rock for Rent series. We'll been reposting links as we learn about them.
Stay safe and healthy!
Shop Local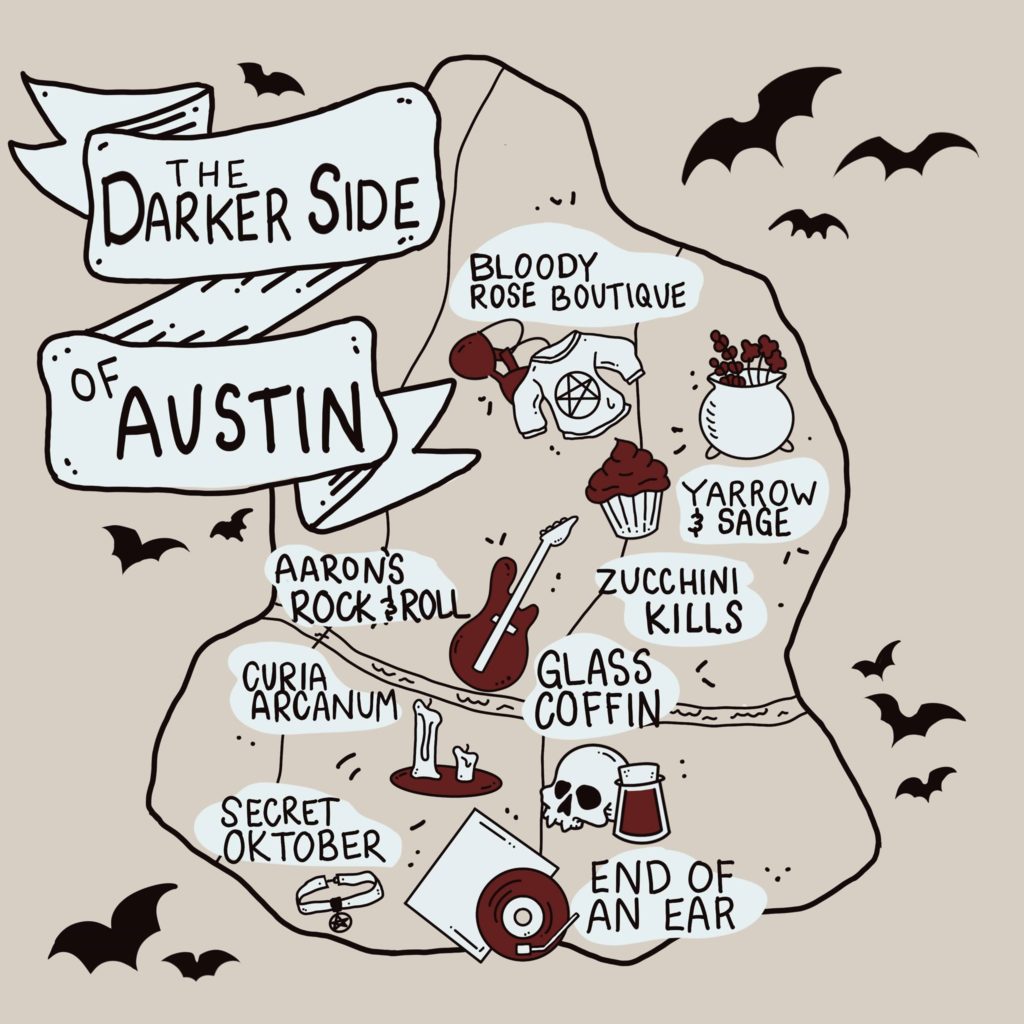 Aaron's Rock and Roll – online only
Austin Ghost Tours – online virtual tours, walking tours resume May 21
Bloody Rose Boutique – order online with curbside pickup starting today.
Curia Arcanum – online only
End of an Ear – online only
The Glass Coffin: Vampire Parlor – Saturday, May 9th only, from 12p & 6p. Everyone Must wear a mask. No exceptions. 4 people max inside the store.
Haunted ATX – private tours only
Museum of the Weird – still temporarily closed
Secret Oktober – still temporarily closed
Yarrow and Sage – still temporarily closed
Zucchini Kill – contact free pickup and delivery now available
Links to all the stores are in the Shopping section.
This cool map was made by our friend Rea at Naked Eye Studio. She has illustrations, pins, patches and more available at her site.
Coming Soon: Artists
Artists, get listed on the Darker Side of Austin! We are creating a new Artists category and are looking for Austin-based artists the fit our concept and aesthetic.
In order to be considered:
Artist must create actual art – paintings, illustrations, sculptures, drawings, multimedia art… Creators of handmade, small batch products need not apply. (Sorry., candles, soaps, oils and stuff are products, not art). We may open up a category for that in the future.
Artist must be located or based in Austin, TX. Not, Georgetown, Round Rock, Plugerville, or any place not Austin.
Original artwork must fit the "Darker Side of Austin" concept. Sunshine and bunnies are not ok unless the bunnies have fangs and are eating the sun. We only deal with things that are goth, punk, metal, horror and alternative.
Artists can apply here to be featured.
Video: Nosferatu Festival Kickoff Party Part Two
Our second video from the Nosferatu Festival is now online. Check out the video featuring Lucid Dementia and Psycho 78 and subscribe to our channel!