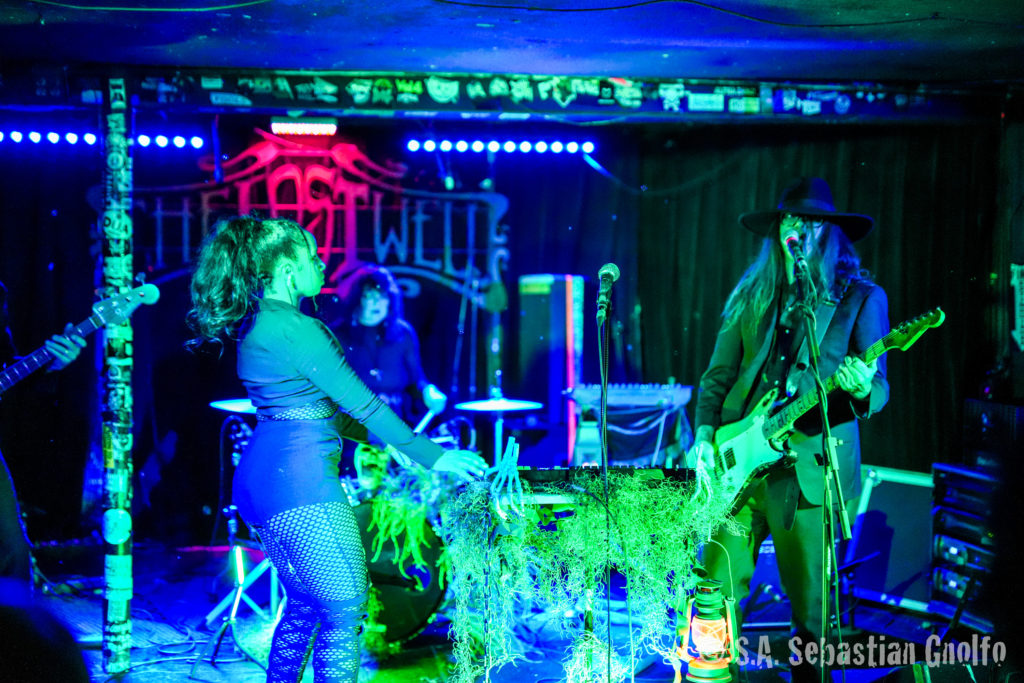 Ole Creepy & Friends Halloween Show
What better way to celebrate Halloween with one of Austin's spookiest bands, Ole Creepy! Ole Creepy brought with them to the Lost Well an eclectic lineup of 3 very different bands that you wouldn't expect to be on the same bill.
First up was Sëx Pümp. They call themselves Austin's most dangerous band — a nod, maybe, to David Letterman's old band lead by Paul Shaffer? I had seen Sëx Pümp play once before and I thought that they were a kind of a fun alternative disco band. Like Pet Shop Boys meets B-52s. This night the guitars were crunchier and heavier, and more forward in the mix giving the band a much different dynamic and sound, but was a good fit for the Lost Well which mostly hosts metal and punk bands. The band laid down some heavy grooves and got the people dancing.
The Dead Coats, a kind of grunge band followed Sëx Pümp. I had never seen the Dead Coats before, and tonight I couldn't really get a feel for them or their music. Their set was plagued by terrible lighting and bad sound, which is odd because pretty much all the other bands had really good mixes. One could only guess what was up with the sound engineer during their set. Mics were feeding back and there was hardly any bass or drums in the mix, and what was coming out of the speakers was harsh and barely listenable. This made a lot of the audience, including me, head outside and miss their set.
Our hosts for the night, Ole Creepy were up third. Accompanied by their go-go dancer, Ole Creepy took to the stage that was dressed like a Louisiana swamp, with skulls scattered about and bathed in Ole Creepy's signature green and white lighting. The first couple songs were ambient, slow burners with band leaders Jerry and Eva both playing keyboards and Jerry full-on into his Ole Creepy character, with vocals sounding like a cross between Tom Waites and Nick Cave. A couple songs into the set Eva took to the drums and Jerry strapped on the guitar and finished out the set in their unique swampy punk rock style.
The heavy power trio, Sabbath Crow closed out the night. They describe themselves as swampadelic apocalyptic hell rock, chicken fried psych punk, western goth which is a pretty accurate description of this power trio. They are hard and heavy with some extended kinda doom and psych jams but without the doom style vocals. They were pretty bad ass and navigated sound issues and a drunk like the experienced pros that they are. During the guitar solo in one song the sound engineer decided to mute the vocal mics and take a walk and didn't make it back in time to turn the mic back on. Lead singer/guitarist J sent someone from the audience to find the sound engineer so they could finish the song. Later on in the set a drunk kept grabbing at J's guitar. When things looked like they were going to get violent, J somehow defused the situation and finished the song uninterrupted. Having been together for 17+ years, it's no wonder Sabbath Crow handled these problems gracefully and like pros.
– S.A. Sebastian
The Lost Well
2421 Webberville Rd
Austin, TX 78702
?: Sëx Pümp – Bandcamp
?: The Dead Coats – Bandcamp
?: Ole Creepy – Bandcamp
?: Sabbath Crow – Bandcamp
?: S.A. Sebastian Gnolfo – Website