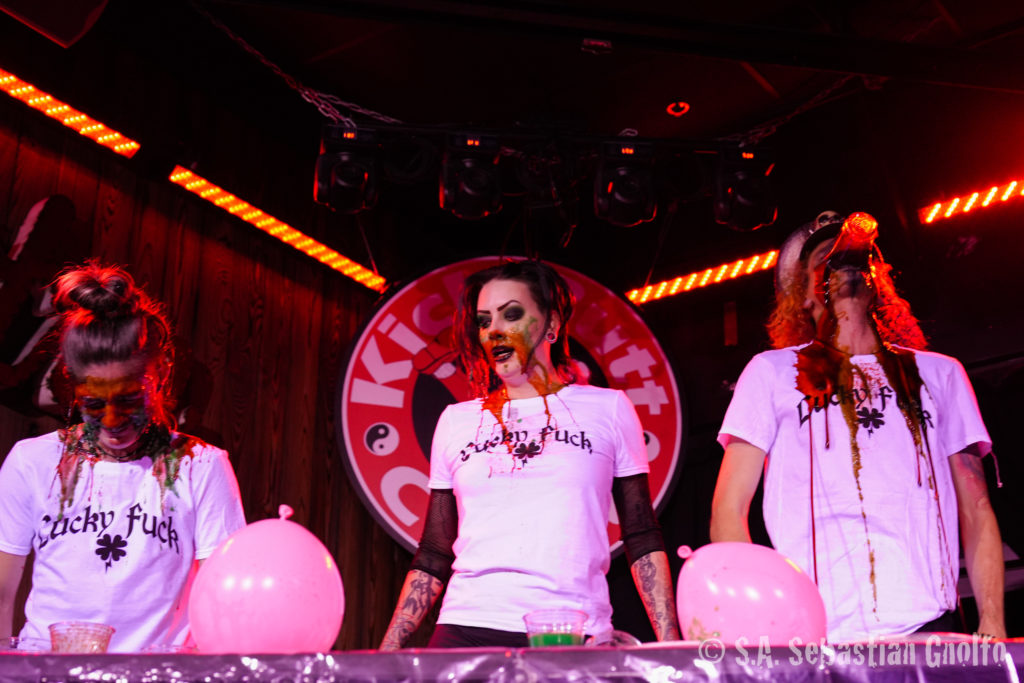 Gore Noir Magazine hosted their 11th anniversary party on July 17, 2022 at Kick Butt Coffee. Gore Noir Magazine is a horror culture magazine that was published here in Austin, TX until the owner, Mitch Rafter moved operations to Las Vegas, NV at the start of the pandemic in 2022. Although Gore Noir moved away, they frequently come back to Austin to host events like the annual Nosferatu Festival, and their yearly anniversary party.
This year's anniversary party featured the return of Mitch's clothing brand called Lucky Fuck, vendors, a burlesque performance by Lindsay LaPerle, sideshow by Gay Satan, and music by the Immortalz, along with a special edition of Gore Factor — the magazine's take on Fear Factor.
Gay Satan grossed everyone out kicking things off by hammering a nail into his face, then jamming a scissor into his nose, sucking up a balloon thru his nose and out his mouth, and then zapping himself with a taser and having money stapled to his body. Then things got bloody with Lindsay LaPerle performing a burlesque striptease with her bloody red skeleton partner and a goblet full of blood that dripped down her half naked body. The Immortalz, Austin's newest undead horror-punk band, had the crowd whipped up into a circle pit right away with crowd favorite songs like "My Pet Werewolf," "It's Not A God, It's A Gourd," and their cover of "Dead Man's Party."
The night got messy again with Gore Factor, hosted by Scarah: Damsel of the Doomed, ending the night. Three contestants had to eat and drink their way through various nasty challenges while Scarah cheered them on and the audience gagged. We don't know what was in those drinks or on those plates, but by the look on the contestants' faces it was gross.
Scroll down to see photos from the show and to find links for all the bands.
Gore Noir Magazine
http://www.gorenoir.com
Gay Satan – Instagram
Lindsay LaPerle – Instagram
The Immortalz – Website
Kick Butt Coffee – Facebook
?: S.A. Sebastian Gnolfo – Website