Upcoming Events: September 2022
As usual, the calendar is full of goth, punk, metal, burlesque shows, horror movies and events! And, Austin has a few more places hosting shows. During SXSW Chess Club opened in the space formerly occupied by Plush, High Noon on Cesar Chavez is hosting shows, and yet another Moody opened up. You won't find these places in our Entertainment section because they are multi-genre venues where you can see pretty much anything.
For you roller derby fans… first the good news. Derby is back with live bouts, and the Texas Rollergirls homecoming bout is this month. Bad news is that the Texas Roller Derby (TXRD, the bank track league) has moved out of Austin to Buda. There are only 2 bouts in Austin, all the rest are in Buda and won't be listing any of the out-of-town bouts.
We'll continue to review all the venue calendars and add all the goth, punk, metal and other "dark" shows worth seeing to the calendar.
Things we are looking forward to in September:
Portion Control w/ Dread Risks and L at Elysium
MVTANT // LLORA // Temptrix-13 at Chess Club
Sick of it All + Agnostic Front w/ Crown of Thornz at the Parish
The Mission UK ∙ Chameleons ∙ Theatre of Hate at Elysium
WWDITS Night Market by Bat City Antiques and Oddities Market at the Glass Coffin
Raven Wiped Out 40th Anniversary at the Lost Well
There's more great things happening, of course. As always we'll be updating the calendar weekly.
New Features Section
Check out our new Features where we have show and event recaps. So far you can see photos from and read about Nosferatu 2022, The Lost Well's 9th Anniversary Party, Gore Noir's 11th Anniversary Party, the Return of Metalesque, the Lightning and Thunder Tour, and more coming soon, including the Stars at Night Fest 2 featuring the Butts, Bondbreakr and Hans Gruber and the Die Hards! These are short recaps with tons of photos, not critical reviews.
In the future we plan to add interviews, and concert reviews and music reviews. Don't send us your music for review yet! We'll let you know when we are ready. But, if you want us to cover your show or event, shoot us a message though Facebook or Instagram.
Nosferatu Festival 2023 Update
Nosferatu Festival is February 24th-26th, 2023. This 5th annual Nosferatu Festival will be bigger, taking place over 3 venues!
Come and Take It Live: 2 full days of Vendors, Full Bar, Live Bands, Photo Ops, Exclusive Merch, Contests, Entertainment and more Saturday & Sunday.
All details TBA in the coming months leading up to our CAN'T MISS event!
Tickets On Sale and Kickstarter September 9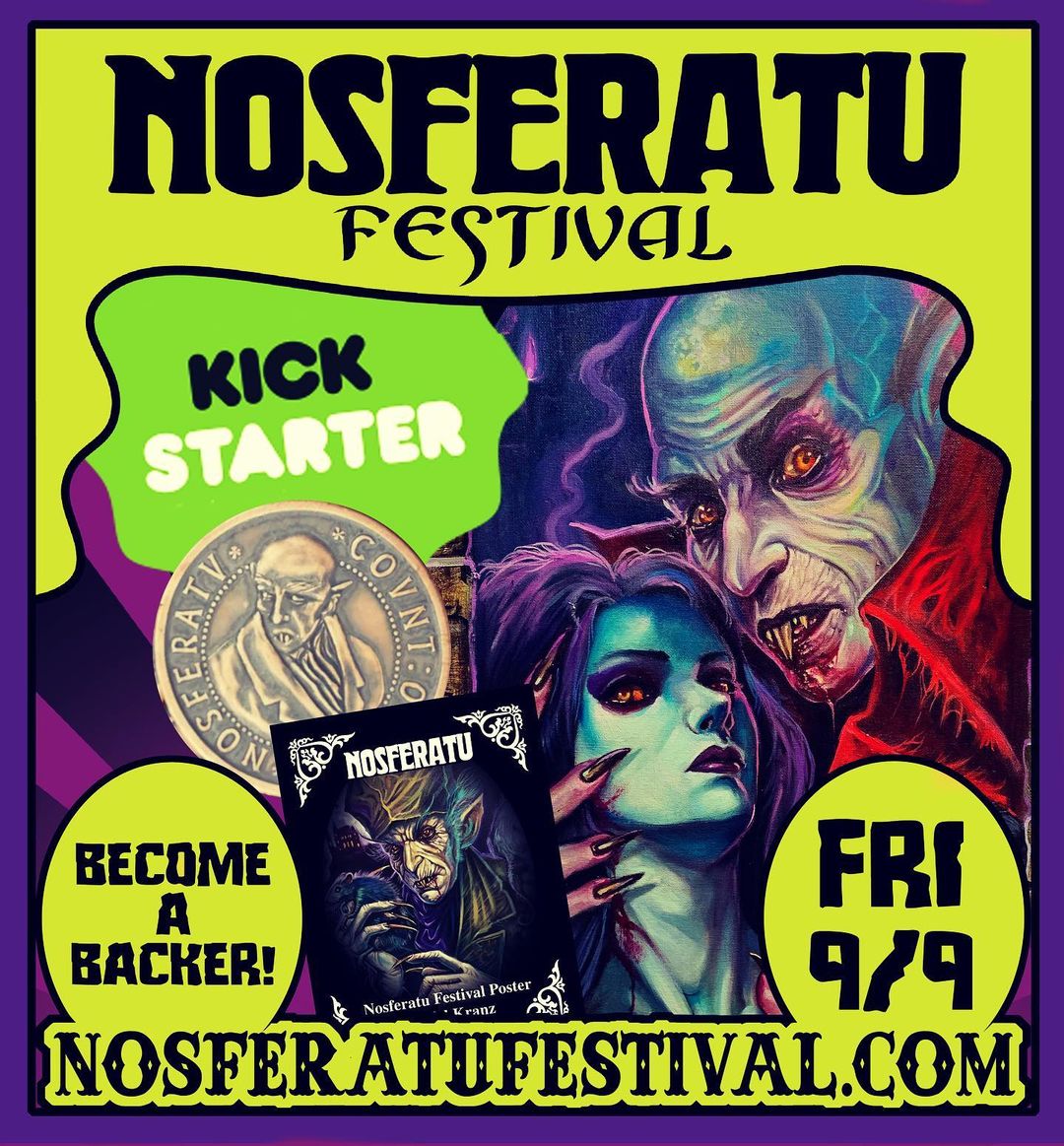 Early-bird tickets go on sale Friday, September 9th, the same day that the Nosferatu Festival Kickstarter goes live! Contributing to our Kickstarter is a great way to help put on a festival without doing any of the work! We will have exclusive Nosferatu coins, trading cards, stickers, shirts, membership clubs, sponsor packages and more available. Back us by buying one of our perks and we will keep busting our asses to book great bands, artists, performers and vendors!
Keep an eye on the Nosferatu Festival and our social media for the kickstarter link.
Short Film Festival
The vampire short film festival is back and the deadline to submit your short film is December 1st. Winners will be notified on January 3, 2023 with the winning shorts to be screened at Come and Take It Live. We got lost of great submissions from all over the world to review over the next couple weeks. Details on how to watch our picks will be announced closer to the festival date.
Follow the festival at https://nosferatufestival.com and on Facebook and Instagram for more announcements!
Are we missing something?
Are we missing anything? Know of a bar or club that is open that we don't have listed? Are we missing an event? Submit a tip!