Upcoming Events: October 2021
October is here at last! This month we are looking forward to the grand opening of Pallbearer Press' new store and the grand re-opening of the Glass Coffin! If you are active in the horror community you know Pallbearer Press from events all over Texas and as the makers of really cool horror shirts, hats, toys and more. They've been in soft open mode for about 2 weeks while they build out the store. Their grand opening party on Oct. 16 looks to be real fun. The Glass Coffin closed a little over a year ago during the pandemic when the landlord decided to sell to a developer to make room for condos. The Glass Coffin reopens by appointment on Oct. 1 and will open to the public starting Oct. 7. The Glass Coffin grand opening celebration is on Halloween.
As far as shows go, we added about 80 events to the calendar in the past few days. Valhalla, Kick Butt, Come and Take It and the Lost Well have a ton of metal, hardcore and punk shows coming up. The Highland, Oilcan Harry's, and the Iron Bear have a bunch of drag, fetish or BDSM shows happening. Haven and Regression are back to being regular events at Elysium. If you want to get dressed up in your goth finest, there are two Goth Prom's happening this month. The first is at the Spiderhouse on Oct. 1 at Spider House, and the second is on Oct. 22 at Elysium. We don't know much about the first one, but the second is hosted everyone's favorite horror drag troupe, Die Felicia!. And, Levitation returns to Austin Halloween weekend.
If you want to to get scared head over to House of Torment, Bat City Scaregrounds, the Alamo Drafthouse or AFS Cinema. If you've been in Austin a minute you know House of Torment and probably had your pants scared off there. This year Austin gets a new haunted attraction: Bat City Scaregrounds! BCS is Austin's newest haunt (and one of our sponsors) and weather permitting they open this weekend for their first season featuring 3 haunted houses and performances by house bands Ole Creepy and the Immortalz!
Nosferatu Festival 2022 Update
We have been working with Gore Noir Magazine, the founders of the festival, to bring you a bigger and more exciting Nosferatu Festival than previous years. The festival will once again be held at Come and Take It Live with the kick-off party at Kick Butt Coffee. The first round of announcements have been made and VIP and early bird tickets are on sale now!
We are excited to have the bands Order of the Fly and Ghoultown playing at the festival, and burlesque performances by Janie Slash and the Metal Showgirl Layna D'Luna. We'll have many more announcements each week leading up to the festival.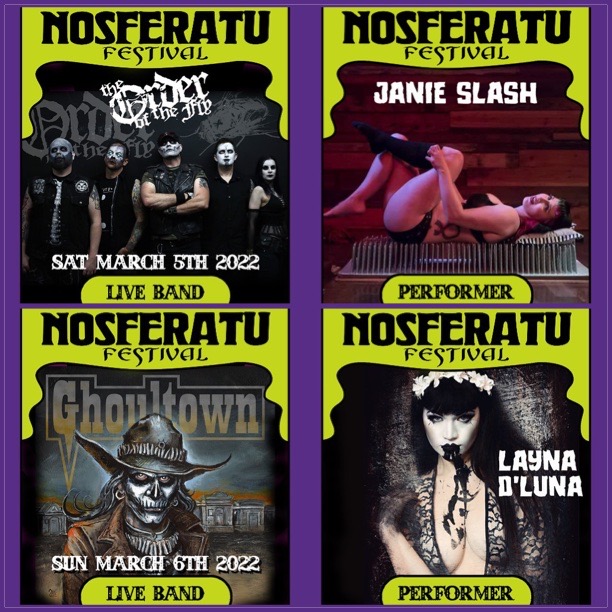 You can get tickets now at https://nosferatufestival.com for $40 for a weekend pass and $100 for the VIP pass. There are only 100 tickets available at this price. When these sell out the remaining tickets will be $50. The weekend pass includes admission to the kick-off party on Friday night at Kick Butt Coffee.
Follow the festival at https://nosferatufestival.com and on Facebook and Instagram for more announcements!
Are we missing something?
Are we missing anything? Know of a bar or club that is open that we don't have listed? Are we missing an event? Submit a tip!