Upcoming Events: November 2021
It looks like all the clubs and bars that made it though the pandemic are back in full swing. We got so far ahead with adding events to the calendar in October that we didn't have to make too many updates for November.
The usual places have the usual types of music and events. You may have noticed that Spider House has down-sized. Apparently they are under now ownership or management and are only operating the event space. The restaurant/bar space is up for rent.
Here are the events that we are looking forward to in November.
The Casualties at Come and Take It Live
Clan of Xymox & Curse Mackey at Elysium
Slackers at Flamingo Cantina
Horror for the Holidays 7 at Palmer Event Center
There's more great things happening, of course. As always we'll be updating the calendar weekly.
Nosferatu Festival 2022 Update
We and Gore Noir Magazine are very excited to announce the Nosferatu Festival headliners! Nekromantix will be headlining on Saturday, March 5th and 45 Grave will be headlining on Sunday, March 6th!
Scarah, Damsel of the Doomed returns to host the event, with the bands Order of the Fly, Ghoultown and Dark Ride, burlesque performances by Janie Slash, Honey Sabina and the Metal Showgirl Layna D'Luna. We still have many more announcements to make.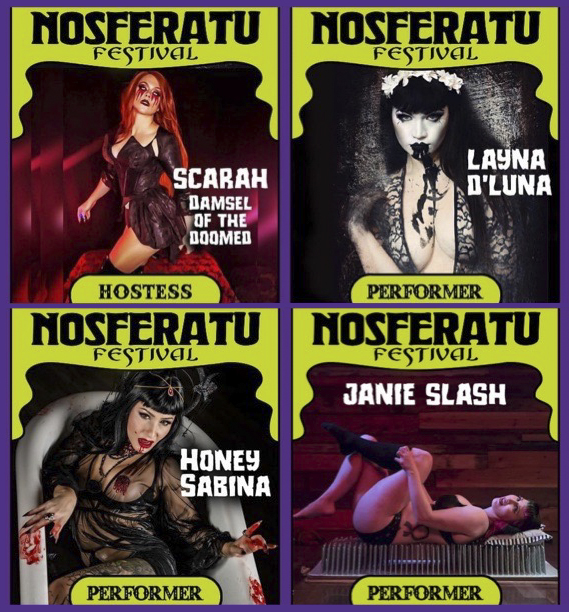 We still have a few discounted admission tickets available. Get yours now at https://nosferatufestival.com for $40 for a weekend pass and $100 for the VIP pass. When these sell out the remaining tickets will be $50. The weekend pass includes admission to the kick-off party on Friday night at Kick Butt Coffee.
Follow the festival at https://nosferatufestival.com and on Facebook and Instagram for more announcements!
Are we missing something?
Are we missing anything? Know of a bar or club that is open that we don't have listed? Are we missing an event? Submit a tip!