Upcoming Events: February 2023
Jeez! Another icy Texas winter. The start of the month left a lot of us in the Austin-area without power and the airport, highways and public transportation closed. As I write this, the city is still trying to restore power to many parts of the city. I hope you are all staying safe and warm.
It's February and that mean it's almost time for Nosferatu Festival! It's the 3rd year that Darker Side of Austin is not only sponsoring the festival, but helping to book and organize the festival. This year we very lucky to score horror-punk legends, The Undead to headline Saturday night! Headlining on Friday are local horror-punk faves The Immortalz, and on Sunday are Texas horror-metal veterans Helstar! Read more about the festival and how to get tickets below.
The calendar is pretty much up-to-date for February and I'm working on March and further out. Just a heads up: not all SXSW events will be listed on the calendar. If it's an event that in NOT open to the public or requires a badge it will not be listed here.
Here's some events we are looking forward to in January:
Austin Oddities Market at Elysium
MDC, This Party Sucks, Cunto, Bondbreakr, Diente X Diente at Kick Butt
BONER BIZARRE: BONER WALK WITH ME (A TRIBUTE TO DAVID LYNCH) at Come and Take It Live
Harsh Symmetry-In A Darkened Room-RI¢H-Semetary Gates-Dj Christina Zombi & Immortal Mel at Elysium
Secret Oktober's 19th Anniversary Sale & Goth Party at Secret Oktober & Captain Quackenbush's Coffeehouse
There's more great things happening, of course. As always we'll be updating the calendar weekly.
– S.A. Sebastian
Nosferatu Festival Update
Noseferatu Festival is almost here! We are so excited to have The Undead, Helstar, and The Immortalz as our headliners over the 3 nights!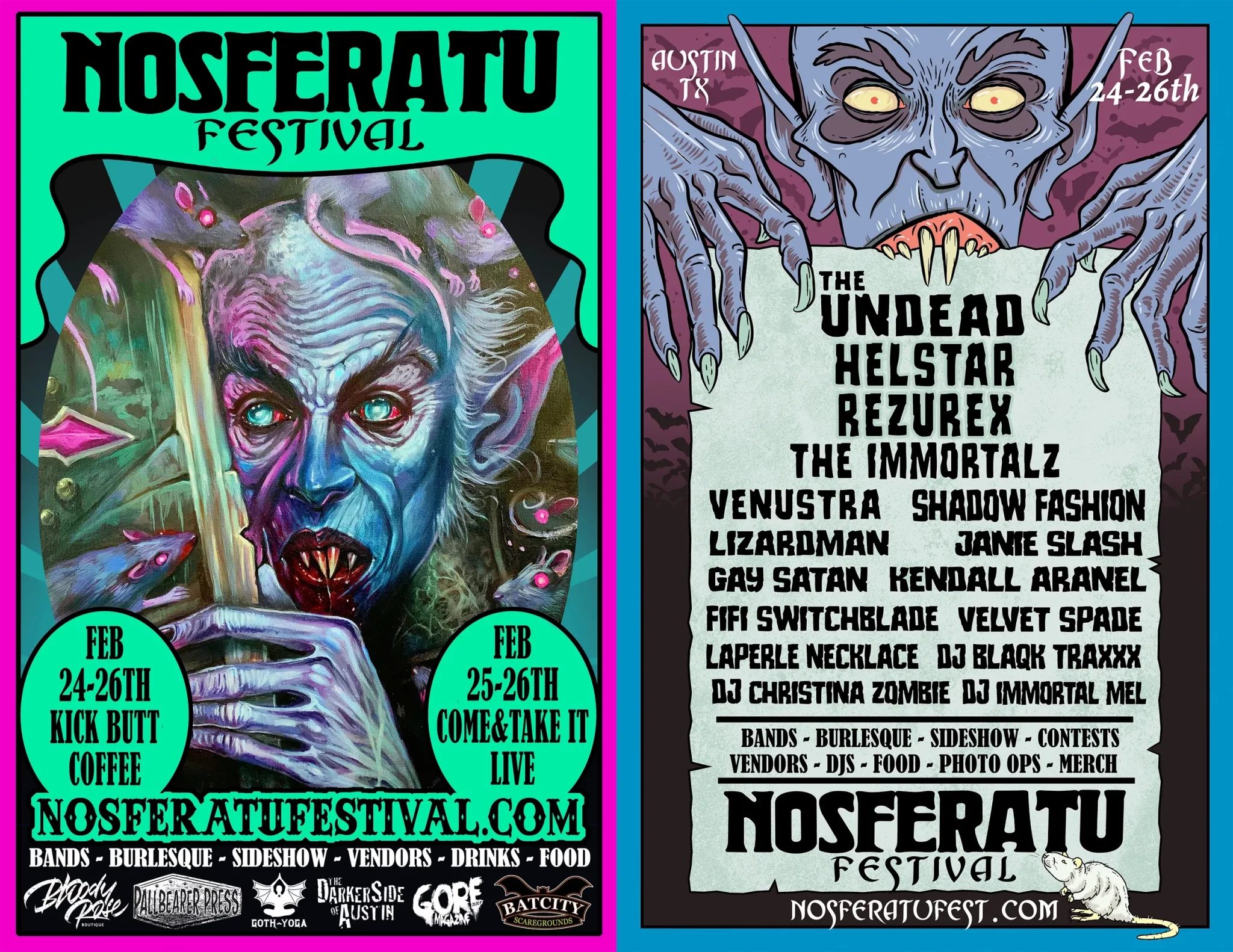 Weekend passes & VIP gets you into both the Daywalker Bazaar & the Nightstalker Parties!
$50 – General Admission – Weekend
$100 – VIP Weekend Ticket incl/VIP merch package & Access to VIP only area
Get Tickets: https://www.eventbrite.com/e/nosferatu-festival-2023-a-weekend-of-vampires-tickets-411581500347
Nightstalker Parties
Nosferatu Festival 2023 features 3 nights of Nightstalker Parties with bands, burlesque, sideshow at Kick Butt Coffee after our Daywalker Bazaar at Come and Take It Live.
Announced Bands and Performers:
– The Undead (featuring Bobby Steele, formerly of the Misfits)
– Helstar
– The Immortalz
– Rezurex
– Venustra
– Shadow Fashion
– The Lizard Man (Erik Sprague)
– Velvet Spade
– Kendall Aranel
– Janie Slash
– Gay Satan
– LaPerle Neckalce
More bands and performers TBA
Daily line-up TBA
Nightstalker Parties are 16+
Daywalker Bazaar
During the day on Saturday and Sunday, we take over Come and Take It Live with 24+ vendors, drinks, food, vampire short film contest entries, contests, and photo ops!
Events/Games:
– Gore Factor: A Bloody Game Show
– Garlic-eating Contest
Screenings:
– Nosferatu: A Symphony of Horror
– The Count – 1st Place Short Film Festival
– LucyxMina – 2nd Place Short Film Festival
– First Girl – 3rd Place Short Film Festival
Vendors:
– Alison Eve Art
– Angelic Vortex
– Art from Hell
– Aza Gonzalez
– Bloody Rose Boutique
– Gentlemen Bats
– Gore Noir Magazine
– Goth Yoga
– Jacqueline's Cakes
– Meg Rae Art
– Morbid Hookers
– Nightmare Nymph
– The Pale and Mysterious
– Pallbearer Press
– Pariah Clothing
– Spoiled Milk Art
– Typhoid and Swans Studios
More vendors TBA
Festival Sponsors
Bat City Scaregrounds
Bloody Rose Boutique
Gore Noir Magazine
Goth Yoga
Pallbearer Press
The Darker Side of Austin
Get Featured
Do you want us to cover your show or event? Shoot us a message though Facebook or Instagram and we'll see if we can make it out and write you up.
Are we missing something?
Are we missing anything? Know of a bar or club that is open that we don't have listed? Are we missing an event? Submit a tip!