Upcoming Events: Feb 2022 & Nosferatu Festival
February Late Start
Sorry this update is late. In addition to being really busy working on the Nosferatu Festival, over at the Bloody Rose Boutique we added more open days and hours. (For those of you that don't read the fine print at the bottom of the site, we own the Bloody Rose.)
We made a lot of updates to the calendar for February through the end of the year and are still catching up. If this was a week sooner we would have recommended Chant's return to the stage after a 5 year hiatus. You'll notice a lot of weekly and monthly recurring events are back, and AFS Cinema has a bunch of horror movie screening.
Here are some shows we are looking forward to in February:
NITE SCHOOL w/ MVTANT, Pale Dīan, DEEP CROSS + DJs PONYBOY & Scorpio, Feb 10
Tarantula Mountain's "Virgo Sunday" Album Release Show, Feb 11
The Queers and Teenage Bottlerocket, Feb 17
Poly Styrene: I Am A Cliche, Feb 23
Now on to the Nosferatu Festival update.
Nosferatu Festival 2022: March 4-6
Nosferatu Festival is March 4th-6th, 2022 at Kick Butt Coffee and Come and Take it Live, and we and Gore Noir Magazine have been busting ass putting the final touches on the festival. In addition to the bands, burlesque and sideshow, we have over 20 vendors of vampire and horror merch, food vendors, vampire short films, Nosferatu screening, photo ops, and more. The mostly full line up for each day is listed below.
Single-Day Tickets for Saturday or Sunday Now Available
By popular demand we are now offering single-day passes for Saturday and Sunday. So, if you want to see the Haxans featuring Ash Costello (New Years Day) and Matt Montgomery (Piggy D. of Rob Zombie and Wednesday 13 you can grab tickets for Saturday, and if you want to see 45 Grave you can grab tickets for Sunday. Single-day passes are $35. Of course, if you want to go to the kick-off party at Kick Butt on Friday and experience all the stuff we have planned, you can grab weekend passes for $50.
We have just a couple VIP passes left for $100. The VIP pass includes special VIP-only merch package, access to VIP only area, and more.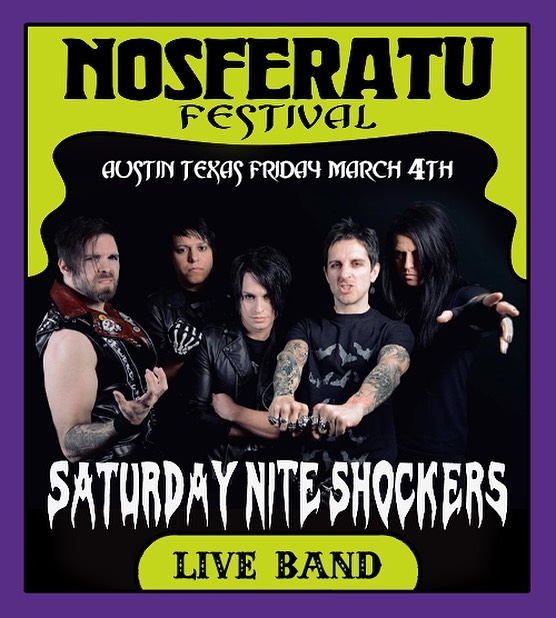 Friday
Saturday Nite Shockers
The Immortalz
Haunt Me
Siggy Sauer
DJ Ely Bat
Saturday
The Haxans
Dark Ride
Order of the Fly
Janie Slash
Layna D'Luna
Rayne Drawps
Sigil Sisters
DJ Nicole Noir
Count Orlok birthday celebration
Special FX Demos w/ Bat City Scaregrounds
Nosferatu film screening with Argyle Goolsby (Blitzkid) soundtrack
Short film screening
Horror market (noon-6pm)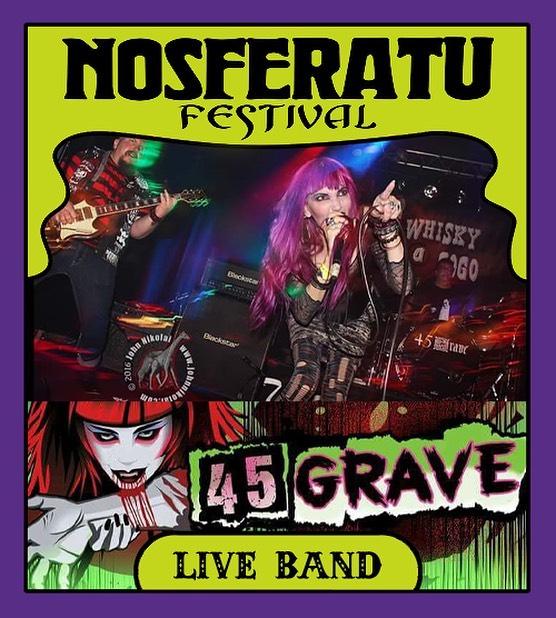 Sunday
45 Grave
Dark Ride
Ghoultown
Tomb of Nick Cage
Sabor Insanity
Honey Sabina
Sigil Sisters
DJ Xyla
Gore Factor: Garlic & Cricket-eating contest
Nosferatu film screening
Short film screening
Horror market (noon-6pm)
Follow the festival at https://nosferatufestival.com and on Facebook and Instagram for more announcements!
Are we missing something?
Are we missing anything? Know of a bar or club that is open that we don't have listed? Are we missing an event? Submit a tip!