Upcoming Events: December 2021
Happy Holidays!
Happy Hexmas, Merry Krampus, or whatever you celebrate! As we kick off December and shows are being booked out as far as next fall, the Omicron variant is rearing its ugly head. Let's keep this under control so we can all continue getting out of the house and live somewhat normal lives. Wash your hands, cover your mouth, wear a mask, get vaxed, and don't be a dick.
As far as events go, we added over 100 events to the calendar all the way out to October 2022. If you are into punk Kick Butt Coffee is the place to go. If you are into metal head to the Lost Well. Valhalla has both punk and metal shows every Thursday, Friday and Saturday. If you are into drag or fetish events make sure to hit up the Iron Bear and Oilcan Harry's. Of course, Elysium is your place for goth. Places like Hotel Vegas, Swan Dive, the Mohawk, Come and Take it Live, Emo's, Empire Control Room & Garage all have punk, metal, goth, industrial and whatever randomly throughout the year. Make sure to check our calendar before heading out to one of those places.
Things we are looking forward to in December:
Nitzer Ebb with Curse Mackey
Anime Wonderland Art Show at Guzu Gallery
Krampusnacht at Bat City Scaregrounds
D.O.A with the Bulemics at the Lost Well
Nightmare Before Christmas Gothic Ball & Bazar
There's more great things happening, of course. As always we'll be updating the calendar weekly.
If you follow us on Instagram you might have noticed we are covering shows in our posts and stories. There's a lot going on and there's only 2 of us working the site so we can't get to everything. But, when we do get out we are posting videos and photos from the shows. Before the pandemic started we were getting out and doing interviews and filming shows for our YouTube channel. We hope to be getting back to that and also adding editorial content to the site in the new year.
Holiday Shopping 2021
Support your local alternative shops and artists this holiday season! This year we have more places to shop than ever before. At least 4 new places opened this year. Here's the list of the shops.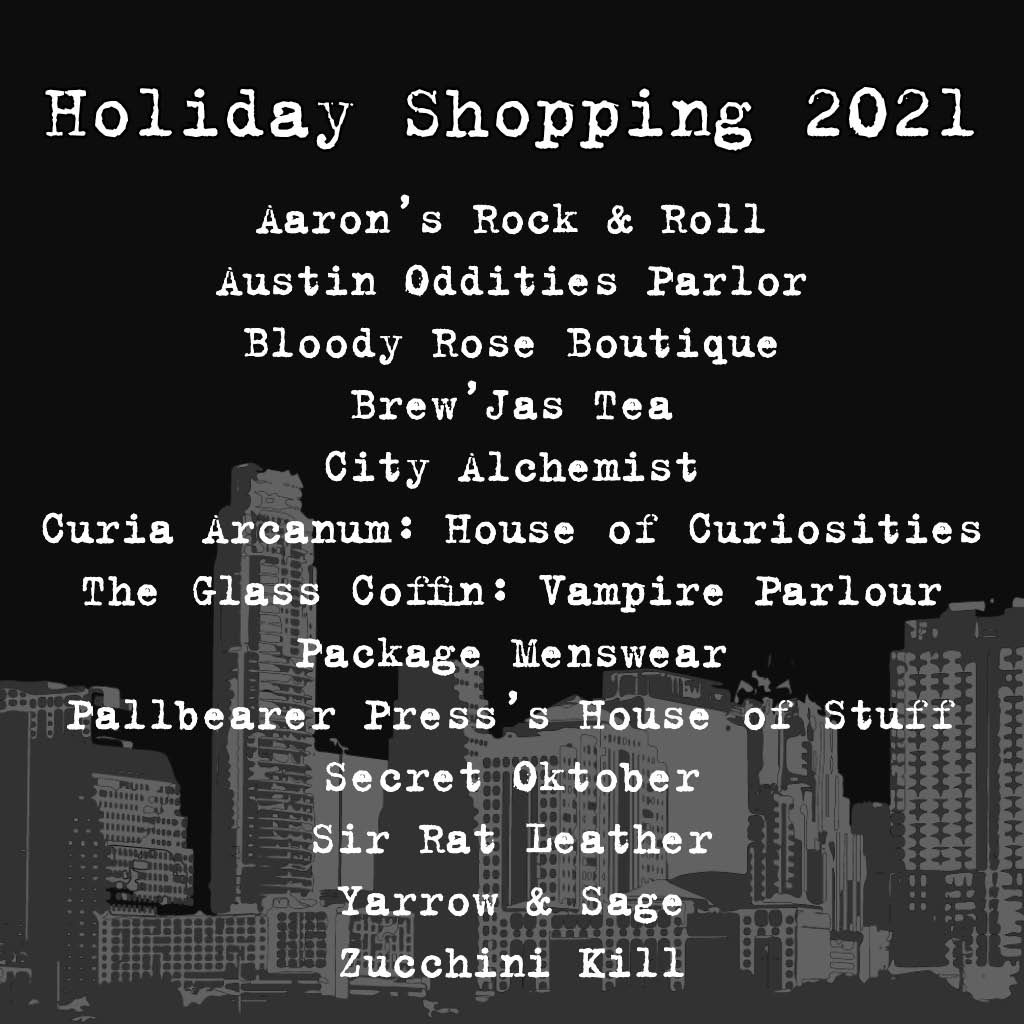 Aaron's Rock & Roll
Austin Oddities Parlor
Bloody Rose Boutique
Brew'Jas Tea
City Alchemist
Curia Arcanum: House of Curiosities
The Glass Coffin: Vampire Parlour
Package Menswear
Pallbearer Press's House of Stuff
Secret Oktober
Sir Rat Leather
Yarrow & Sage
Zucchini Kill
There are way too many artists and creators to list, but you can find them at these events in December.
Dec 5 – BatCity Antiques & Oddities Market presents 'Krampus'
Dec 11 – Brew'Jas Krampus Market
Dec 12 – Bloody Rose and Tigress Pub's Holiday Market
Dec 18 – Austin Witches Market – Yule @ Buzz Mill
Dec 19 – Austin Witches Market – Yule @ Yarrow & Sage
Nosferatu Festival 2022 Update
Nosferatu Festival is March 4th-6th, 2022 at Kick Butt Coffee and Come and Take it Live. We and Gore Noir Magazine are continuing to work on adding new performers, vendors and other things to make this a really great weekend of vampires. Scarah, Damsel of the Doomed returns to host the event, with the bands 45 Grave, Order of the Fly, Ghoultown and Dark Ride. We have DJs Nicole Noir, Xyla, and Ely Bat, burlesque performances by Janie Slash, Honey Sabina and the Metal Showgirl Layna D'Luna. We still have many more announcements to make.
The deadline to submit to the vampire short film festival is closed. We got lost of great submissions from all over the world to review over the next couple weeks. Details on how to watch our picks will be announced closer to the festival date.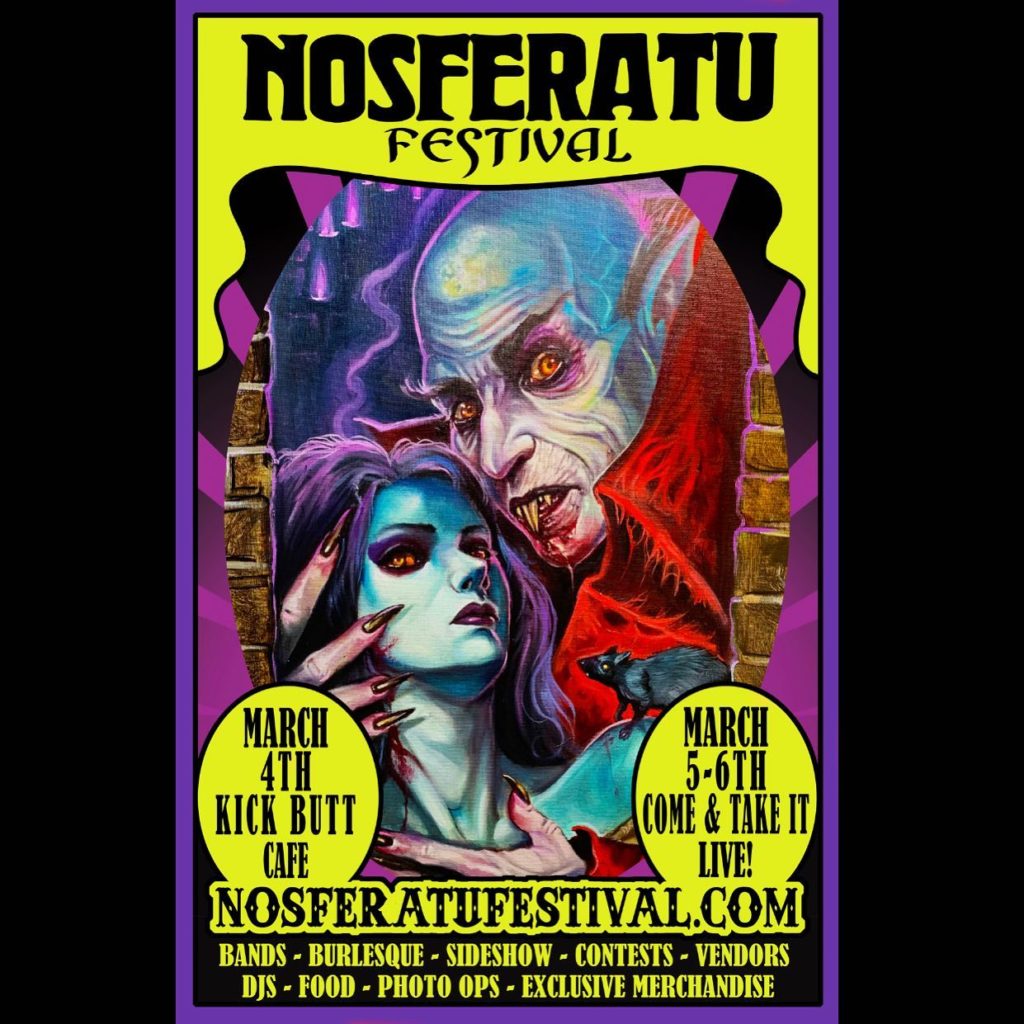 We are only offering weekend passes. The weekend pass includes admission to the kick-off party on Friday night at Kick Butt Coffee. Get yours at https://nosferatufestival.com. You can also get a VIP pass for $100. The VIP pass includes special VIP-only merch package, access to VIP only area, and more TBA.
Follow the festival at https://nosferatufestival.com and on Facebook and Instagram for more announcements!
Are we missing something?
Are we missing anything? Know of a bar or club that is open that we don't have listed? Are we missing an event? Submit a tip!